Center for Innovation in Sleep Self-Management
UW Sleep Researchers
Please click here to see a list of UW faculty conducting adult sleep research.
Please click here to see a list of UW faculty conducting pediatric sleep research.
Informatics Resources
Noldus Portable Usability Lab: The Portable Usability Lab (PUL) is a system that allows researchers to better understand how potential users may interact with new software, a website or app and obtain detailed data about the user experience. The system can record audio/video of participants and capture their screen while interacting with software or other interventions. It comes complete with software to annotate participant behavior including mouse clicks, verbal cues, and facial expressions. These different input methods are combined and behaviors are coded holistically using a unified interface. For reference, the system is equipped with the following hardware and software:
Dell Workstation
USB Licenses to access Noldus Software (Observer XT and Media Recorder)
Microsoft LifeCam w/ Tripod for recording study participants
Epiphan HDMI to USB for Screen Capture
Logitech Labtec Desktop Microphone 600
Sennheiser PX200-II headphones
Tobii Eye Tracking: Eye tracking software adds an additional and exciting new dimension to usability research. Tobii Eye Tracking supports both stand-alone eye tracking analysis through Pro Lab and incorporation with other data collected through the Portable Usability Lab. Capabilities include eye fixation (heat map) and gaze tracking (fixation sequence). For reference, the system is equipped with the following hardware and software:
Nano Pro eye tracker
Pro Lab software to design eye tracking experiments and analyze the results
Use Cases
These technological resources enable high impact research when combined with user-centered design methods. A small subset of potential use cases are provided below:
Usability: The Portable Usability Lab assists researchers to integrate multiple input methods, e.g. eye tracking, screen capture, and think-aloud audio to understand how a study participant's gaze is related to their attempt to carry out an action.
Readability: Track eye movement while reading text provides additional measures, e.g. reading time or backtracking, i.e. returning to a subsection of text prior to the current forward progress.
Smith, N. D., Glen, F. C., Mönter, V. M., & Crabb, D. P. (2014). Using Eye Tracking to Assess Reading Performance in Patients with Glaucoma: A Within-Person Study. Journal of Ophthalmology, 2014, 1–10. https://doi.org/10.1155/2014/120528
For more information, contact Will Kearns at kearnsw@uw.edu.
Clinical Sleep Centers
The Sleep Medicine Center at Harborview is a state-of-the-art facility whose providers treat a breadth of sleep disorders, including sleep apnea, narcolepsy, insomnia, restless leg syndrome/periodic limb movement disorder and circadian rhythm abnormalities.
We provide multidisciplinary assessment, treatment, and follow-up consultation services for patients with suspected or diagnosed sleep-related problems. We offer all current treatment options depending on each patient's needs.
Seattle Children's has the only sleep center in the region dedicated to caring for babies, children and teens. We perform all our sleep studies in a lab specially designed to accommodate children. Our facility is located in Bellevue, and is part of Seattle Children's at Overlake Medical Tower. We have designed the lab so that you or another adult family member has a place to stay with your child during the overnight sleep test.
The Office for Nursing Research (ONR) supports the UW School of Nursing's research mission to advance nursing science.
The goal is to increase public knowledge of how adequate sleep and treatment of sleep disorders improve health, productivity, wellness, quality of life, and safety on roads and in the workplace. Contains an overview of sleep issues, objectives for sleep health, interventions & resources, and prevalence of sleep issues.
PROMIS® (Patient-Reported Outcomes Measurement Information System) is a set of person-centered measures that evaluates and monitors physical, mental, and social health in adults and children. It can be used with the general population and with individuals living with chronic conditions.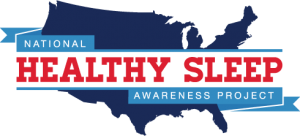 The long-term goal of the Healthy Sleep Project is to promote improved sleep health in the U.S. The project will increase public awareness of the importance of healthy sleep. It also will promote the treatment and prevention of sleep disorders.
The Healthy Sleep Project focuses on the sleep health topic area of Healthy People 2020. This plan is a 10-year agenda to improve the nation's health. The sleep health objectives are to:
Increase the medical evaluation of people with symptoms of obstructive sleep apnea
Reduce vehicular crashes due to drowsy driving
Increase the rate of U.S. teens and adults who get sufficient sleep
The Healthy Sleep Project involves a partnership between the AASM, CDC and Sleep Research Society.
Common data elements (CDEs) are used in clinical research, patient registries, and other human subject research in order to improve data quality and opportunities for comparison and combination of data from multiple studies and with electronic health records.